We're Glad You're Our Neighbour
In July, 1924 my grandparents were among 875 Russian Mennonite immigrants of German descent who arrived in Waterloo, Ontario with their worldly possessions to the land of hope, freedom and opportunity. It was a 13,000-km journey from Russia to Canada which took four weeks.   The kindness that was shown to them by the people of Waterloo County was a testament to the generosity and goodwill of their host community.
My story is not unique as many families have stories of their loved ones fleeing their homeland and eventually settling in Canada.
I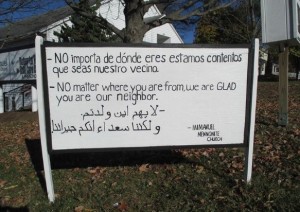 n September 2015, the following sign was created for the lawn at Immanuel Mennonite Church in Harrisonburg, Virginia. The sign was created in the three most prominent languages surrounding the neighborhood of the church being – English, Spanish and Arabic. It is a message of tolerance and support.
From these small beginnings, a lawn sign was created to encourage welcome and hospitality and its message has spread across the United States and Canada. It is our desire to provide an opportunity for you to show care and concern for the neighbours in your community.
Ruth-Ann Shantz, Lead Collaborator, Pathway Leadership Group – www.pathwayleadership.ca
WELCOME SIGNS & BUMPER STICKERS
16"x24" Corrugated plastic sign with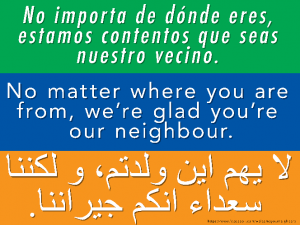 removable wire insert
$15.00
3"x12" bumper sticker – $5.00
If you are interested in purchasing a sign or sticker, please send an email to signs@pathwayleadership.ca indicating the number of signs and/or stickers you would like. A donation will be made to Mennonite Central Committee Ontario and The Cross Cultural Learner Centre, London, Ontario on behalf of this initiative.
Never doubt that a small group of thoughtful, committed citizens can change the world. Indeed, it is the only thing that ever has.  Margaret Mead